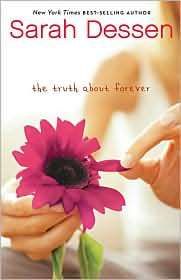 Now, I know what you're going to think as soon as you see the title and cover of
Truth
. But it's one of the books I read on hiatus (yes, I read more than
Ophelia
), and I have to say, I enjoyed it very much. Sarah Dessen is a very talented author (she also wrote
This Lullaby
, one of my favorites), she has a way to make you really
care
about her characters. The plot might not necesarily have been
riveting
, but there is a natural suspence you feel about getting to see what her characters do or go through next. I recommend this book for 14+, since there
is
a bit of language.
Macy is not looking foward to this summer. Her boyfriend is going off to "brain camp", and she is stuck working his job at the info desk at the library, where her co-workers frequently ignore her. With her father dying just recently, and her mother constantly in work mode, Macy is lonely and doesn't expect the word "fun" to come up by any chance.
But that's just what happens.
Macy meets the Wish Catering crew: chaos-driven Delia, the zany Kristy, monotone Monica, doomsday-er Bert, and best of all...Wes. Wes, who intrigues Macy by his artistic talents--and his attractiveness. Wes, who already has a girlfriend, but who befriends Macy. Wes, who teaches Macy the truth about forever and gives her the strength to stop mourning her father.