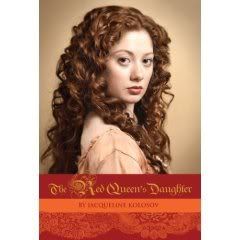 I love almost any book that blends history and fantasy together. I especially love this book because it took place in the Elizabethan times. But I also love
The Red Queen's Daughter
for many more reasons. The writing is filled with imagery of nature, flowers, and stones. I also love the magic in this book--it is linked with nature and has that element of alchemy. Also, I LOVED the stones and their meanings. But anyway, the story is very intriguing also.
Mary Seymour is Catherine Parr's daughter (the author wrote a note on this--Mary is a somewhat fictional character because in reality she died at the age of two; another thing I love about this book--te author rewrites history, very cool...). She is orphaned and taken in by Lady Strange, a mysterious lady who is set to train Mary as a white magician--someone to watch and protect over young Queen Elizabeth's reign. But Court is a treacherous place, and she is put into some situations she is not ready for--including falling in love with her cousin, Edmund Seymour, the greatest Dark Magician in England...
I would recommend this book to anyone who likes magic, adventure, and history, with a bit of romance thrown in.
(My only complaint was that the part between meeting Lady Strange and going to court was a little slow.)
~Sookie
Ps. Sorry I've been a little MIA around here. I hope to resolve that by posting at least three times a week...that's my goal. Well, maybe two...