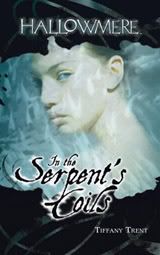 Hallowmere, In the Serpent's Coils
Tiffany Trent
Corrine, a girl who has survived the Ague fever and the death of her mother, is sent to boarding school in post-civil war Virginia by her Uncle William. Corrine has been frequently plagued by strange dreams and visions--visions of fairies and of her mother. Painful dreams. As she is settled in to Falston Reformatory School, she hopes she can escape the dreams--instead, they follow her. And she learns of a secret--a terrible secret about those who run Falston and about girls who were taken. Plus there are mysteries to be solved--whatever happened to her father? And what are the fairies, and what do they want from her?
Hallowmere is my favorite kind of book--involving boarding schools, fairies, secrets, old letters, and people who are not what they seem. Even though it was a bit darker than I was expecting--I still enjoyed it, and I'll be picking up the sequel this December. The only qualms I had with the book was that it was not whole--it's true that not every end can tied, but I felt like the book wasn't complete, and perhaps more could be explained. Still, it's worth the read.
Once again, I apologize for my lack of substancial writing around here (other than Harry Potter fan videos). I haven't been very good at keeping up this blog. Senior year is very hectic--but I'll find time the best I can to talk about more of the books I've been reading (and I've been reading a lot more than Hallowmere).
Sorry!
~Sookie