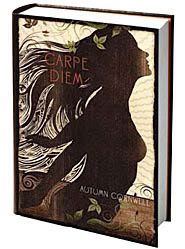 Vassar Spore lives out her days making extensive lists of goals (including going to her namesake, Vassar, and winning a Pulizter prize, not to mention marrying a 6'5 blond surgeon, or judge). And also watching her father revise his book:
How to Increase Your Persoanl Productivity in 2,000 Easy Steps
--while going over her goals with her mom in the appropriated Hour of Reflection.
That is until Vassar recieves a sixteenth birthday present from her mysterious grandmother Gertrude (who lives in Southeast Asia) a few months late: A ticket to Malaysia. And also--an offer to be her assistant while trekking through the Laotian jungles in search of a rare beetle....
At first her parents refuse point blank (and so does Vassar) but whispers of blackmail and a sinister Family Secret send Vassar packing on a plane to Malaysia in less than two weeks, with her ten monogrammed suitcases and all. But Vassar and suitcases # 2-10 may be in for a wild and surprising ride, not to mention the unveiling of the Secret, a little romance with an Asian cowboy, and some strange Asian toilet adventures as well.
Will Vassar come out of this experience unscathed? Or will she learn to Cease the Day (instead of plan it out)and, like her grandmother, Live in the Moment?
I loved this book more than I can tell. It is one fourth adventure, one-eighth romance, and two halves of excellent writing. I enjoyed learning all the phrases and words from Maylay, Laotion, Cambodian, and Latin, and learning a bit more about Southeast Asia. It is definitely my kind of book--and is worming its way into my top ten.